Case – Slim aluminium unibody
Apple remains true to the iPad Pro series with the new iPad Pro 11's slim design, but it is a few grams lighter again, as we mentioned earlier. This weight difference does not make a noticeable difference in everyday usage, though. As in previous years, Apple offers the tablet in Space Gray and Silver.
Our unit is well-built, and its slim chassis is comfortable to hold. The gaps between materials are tight and even too with no apparent flaws. Additionally, the tablet retains its predecessor's 83% screen-to-body ratio, which remains good. The iPad Pro 11 (2021) has slightly thicker bezels than its predecessor, but these make it easier to hold without accidentally triggering the display.
The iPad Pro 11 (2021) endured our attempts to twist it, and did not make a sound when we did so. Also, we had to press hard on the display to distort it, but the waves disappeared once we lifted our finger. In short, you should not fear any stability problems with the iPad Pro 11 (2021), despite its large surface area.
When choosing materials, Apple continues to focus on sustainability and uses for the iPad Pro, among other things, recycled aluminium, tin and rare earths.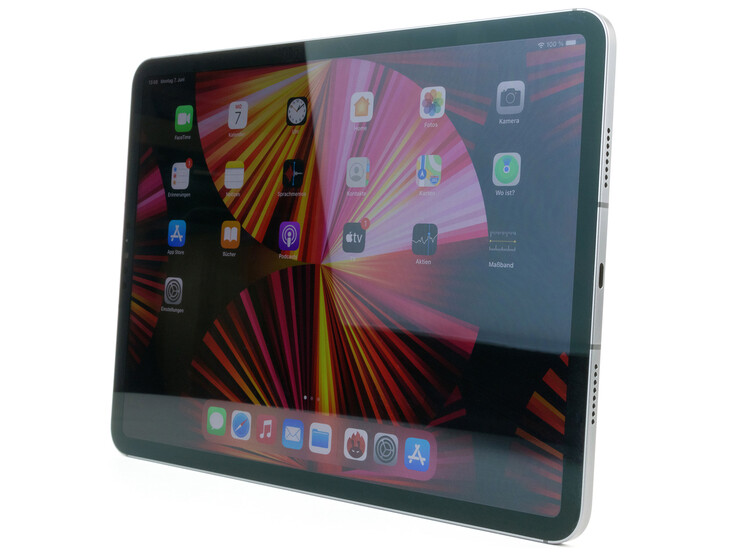 Software – iPad Pro M1 with iPadOS 14.6
The Apple iPad Pro 11 (2021) ships with iPadOS 14.6. The tablet supports the Scribble function in more languages now, including German. For reference, Scribble is Apple's optical character recognition (OCR) service that automatically recognizes handwritten words and converts them into text. The iPad Pro 11 (2021) can use Scribble system-wide, allowing you to replace a keyboard with the optional Apple Pencil.
In general, nothing has changed in the system design compared to the iPad Air 4. One advantage that all iPads offer compared to other tablets is a long-term supply of updates. For example, Apple has released iPadOS 15 to the iPad Air 2 (2014, Apple A8X) and the iPad 5 (2017, Apple A9), despite their age. We expect Apple to supply the new Pro model with at least five year's of updates, although Apple has not provided any official information on this.
Communication & GNSS – An Apple tablet with exact location
The iPad Pro 11 (2021) supports all current cellular standards, provided you purchase a variant with a cellular modem. The tablet offers a broad frequency spectrum and leaves nothing to be desired, in this regard. However, Apple dispenses with 5G mmWave for the European variants of the iPad Pro 11 (2021), which is the model we received. Our review maintained decent cellular network signal strength during our tests.
Wi-Fi 6 is available for home Wi-Fi, but the iPad Pro 11 (2021) does not support the newer Wi-Fi 6E standard. Unfortunately, Apple also refrains from using the 160 MHz frequency, which resulted in comparatively low transfer speeds when we tested our review unit with our reference Netgear Nighthawk AX12 router. As a result, if you opt for a 2 TB model and want to backup your data over Wi-Fi, then you must wait a little longer than you would on devices that support the 160 MHz band. The iPad Pro 11 (2021) maintained stable transfer speeds during our tests, though.
With a full five microphones, the iPad Pro 11 (2021) offers good communication quality, which is also convincing in everyday usage. Videotelephony moves even more into focus with the new iPad Pro 11 thanks to Centre Stage, which tracks people as they move around in shot. Specifically, the tablet's front-facing camera can follow you, framing you optimally even if you move or are off-centre for some reason. Centre Stage also works if there are multiple people in the shot. The technology works well in our experience, albeit only currently with FaceTime. However, Apple has opened Centre Stage to developers and, among other things, Zoom has already announced that it will support the function soon.
The iPad Pro 11 can use either a nano-SIM card or an eSIM.