The ROG Strix Z490-E Gaming motherboard is designed to cope with the demands of 10th Generation Intel® Core™ processors, with boosted power delivery and an optimized cooling design providing more surface area for heat dissipation. ROG Strix Z490-E Gaming features AI enhancements and intuitive dashboards to help you overclock and tweak various parameters easily. Performance aside, ROG Strix Z490-E Gaming catches the eye, sporting cyberpunk inspired aesthetics including a mirrored stainless steel finish.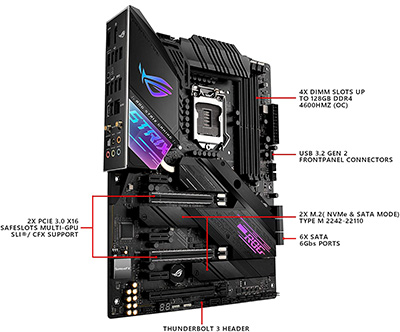 ROG Strix Z490-E Gaming supports up to 128GB DDR4 memory across four slots. OptiMem II technology improves trace layout to significantly reduce vias and crosstalk to enhance memory stability and compatibility, giving memory kits higher frequency margins.
Two M.2 slots are available, with one supporting both SATA and PCIe 3.0 x4 modes, and the other supporting PCIe 3.0 x4 for NVMe. Together, they give you the fastest and most-flexible M.2 interface available.